Building tomorrow's world : our societal commitment
A collaborative European vision supported by strong partnerships in Brittany and Bavaria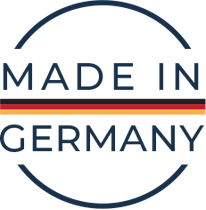 At Silvadec we're proud to be integrated locally in Europe, with production sites in Brittany (France) and Bavaria (Germany).
All our products are made in Europe, from European raw materials carefully selected for their environmental and technical characteristics. 
Silvadec is a member of the organisation "Produced in Brittany", France's number one regional brand in terms of scope and reputation.
Aside from items we produce ourselves, 99% of the accessories we offer are sourced within Europe .
Our preference is to form local agreements with SMEs that are experts in their field, so we can all grow together!
Silvadec nurtures long-lasting collaborations, and here are some examples :
A Jura-based VSE has been making our clips for 15 years.
Our aluminium posts come from a Spanish company we have worked with for 12 years.
Our dyes are produced in France's Morbihan region by a specialist SME whose capabilities match our exacting specifications.
We are extending the Silvadec family by creating local, vertical and horizontal integrations:
In 2014: we create Silvadec Fibres, in partnership with Josso, Brittany's largest sawmill, thereby boosting the local economy with the creation of 8 jobs.
In 2019: we are joined by 2JTech, a Morbihan-based sheet metalworker and our long-established supplier of production equipment. This partnership enables 2JTech to grow while benefiting from our support and administrative services.
 
Partnerships for growth and investment in future generations 
Our local integration also translates into strong relationships with the region's schools and universities.
Every year since 2005, we have hosted apprentices from the Institut Catholique d'Arts et Métiers (ICAM), a highly reputed group of engineering schools located in 6 cities in France and in other countries.
And incidentally , our very first apprentice, Ruben Mignon, is now Director ofSilvadec Fibres !
 
We also have a partnership with the Southern Brittany University (Université Bretagne Sud, UBS) , in which we fund post-doctoral theses.
Here at Silvadec, long-term regional development is at the heart of our approach, and of real value to us !